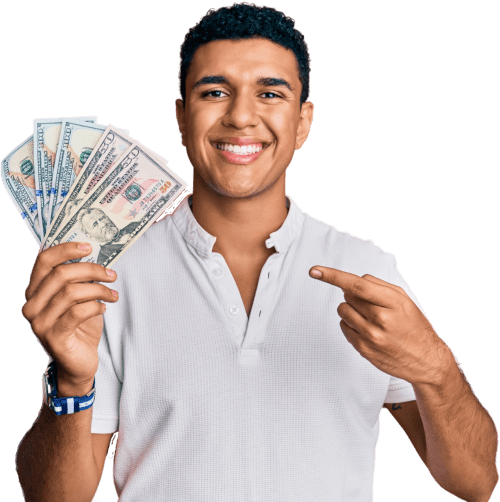 Online Title Loans
Online title loans can be a fast option for urgent financial needs. Whether you need money quickly for paying bills, car or home repairs, medical expenses, or otherwise, an online title loan can be a quick and convenient way to access funds.
At Title & Payday Loans, our licensed vendors can get you up to $15,000 in emergency cash, sometimes as quickly as the same day or the next business day following your application. Online title loans are an easy way to get cash when you need it for an emergency.
Many people turn to online title loans because of their convenience and speed. Because when you are in an urgent financial situation, the last thing you need is to jump through a bunch of hoops or be delayed by lengthy bank approval processes. That is why we offer online title loans. In the rest of this page, we will dive more into what they are and how you can get one today.
What Are Online Title Loans? How Are They Different From Title Loans?
Online title loans, like traditional title loans, are secured loans that use the value of your car title as collateral for the loan. These can vary in amount all the way up to $15,000. With regular title loans, you must go to a store location to complete the application process. The difference is that with online title loans, a store visit is not required.
The entire process is not always completed online, but a representative will come to you and can even meet you at your home or workplace, making it a remote title loan.
Once we know your interest in an online title loan, we will connect you to one of our licensed vendors to get you the best and closest option. Some of these vendors have a full online application, while others begin online and are finished in the in-person meeting.
We will further break down these steps in the following sections. You may have more questions that we are happy to answer.
What Is Required To Get Online Title Loans?
To make online title loans simple and attainable, we have kept the required items to a minimum.
The requirements to get title loans online are only four things. All you need are:
Your driver's license or a state-issued ID. This not only proves your identity but it also shows us that you are at least 18 years of age, which is our minimum age requirement for getting a loan.

The lien-free title to your vehicle. Your vehicle must be paid off in full, making you the sole owner and lien-holder.

The vehicle itself for inspection. We will inspect it in person to assess and determine the amount of money you qualify for.

And proof of income like a bank statement or recent paystub.
That's it! Many people are happy to hear that you don't have to have good credit to apply; our vendors accept applicants with good, bad, or even no credit. Although these items are few in number, they are each necessary. So, make sure you have them all and take the time to gather them before beginning your online car title loan application.
How Online Title Loans Work
The process of getting online car title loans is also quite easy. You can complete it in as little as 30 minutes! Follow the steps below to get a car title loan online today:
Simply start by filling out our online inquiry form; this will alert our lenders of your interest in title loans.
Then you will get a call from a representative who will answer all your questions and schedule a meeting at a place of your choosing.
At this meeting, they will evaluate your vehicle at a location of your choice and walk you through the rest of the application.
After that, you'll find out if you're approved, how much you're approved for, and get your cash! It's as simple as that.
An Easier Way To Pay For Financial Emergencies
Title loans online are a fast and easy way to get the emergency cash you need. As long as you have the few requirements, you can apply for online title loans with Title & Payday Loans. We will connect you with our licensed vendors and you could get your loan without even leaving your home.
How Can I Get Online Title Loans?
We have done the hard work of finding licensed vendors throughout the states, making obtaining online title loans easier than ever. Think this is the loan for you? Get started now by filling out our online request form and let us help you get the extra cash you need today with an online title loan!