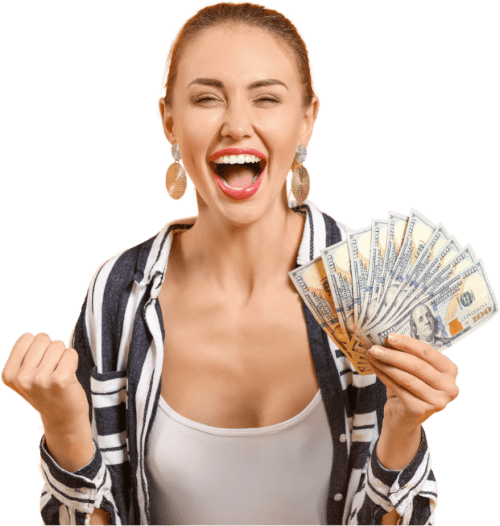 Get Payday Loans Today - Up To $1,200 Fast Cash!
Payday loans are short-term loans that can help carry you between paychecks. If you find yourself in a financial emergency that can't wait until your next paycheck, a payday loan allows you to easily bridge the gap between your paychecks.
For example, if you are in a situation where you need to pay off bills quickly and simply cannot wait for your next payday to do it, a payday loan could be an option for you. Because the nature of these loans is urgent, we have made the process extremely quick and easy so that if approved, you potentially could get the money that same day.
Is It Easy To Get A Payday Loan?
The short answer: Yes! We strive to make it easy and very fast because we know that if you could wait, you simply would wait for your next paycheck. We understand that when applying for a payday loan, you require money without delay. That is part of what makes payday loans desirable.
While a typical bank loan takes a long time to get approved for and requires a thorough look into your credit history, with payday loans, it is a much quicker and easier process to get the money you need. Many people wonder if you need good credit to get a payday loan. With our licensed vendor payday loan network, you could get up to $1,200 in as little as 30 minutes, regardless of your credit. The process is fast, easy, and convenient.
How Payday Loans Work
Now that you know how quickly you can get payday loans, and how much you can potentially receive, let's break down the payday loans process. You may be wondering, "Where can I get payday loans near me?" Title & Payday Loans is here to answer that question. We have partnered with licensed payday loan vendors so that you don't have to. We will connect you to these vendors and get you on your way to finding payday loans near me.
To get the payday loans process started, take a moment to complete our easy online request form. This is found on the homepage of our website. It collects your basic information and only takes minutes to fill out.
After you have submitted it, we will be alerted of your interest in payday loans and a call center specialist will call you back to connect you with your local licensed vendor location. (We have licensed vendors for both title and payday loans so we can meet a variety of needs.) From there, a store representative will be able to take you through the requirements, answer any questions you might have, and make sure you are ready to visit their store to complete the approval process.
What You Need To Get A Payday Loan
Once you make an appointment with the representative, they will inform you of what's needed to complete the payday loans process. When you head to their store, bring the simple required items for your payday loan. The required items are only a few, but they are important. These include:
Your driver's license or a state-issued ID. This is to show not only who you are but also to confirm that you meet the minimum age requirement for a payday loan, which is 18.

Your most recent pay stub. This is to give them an idea of when you will be able to pay back your loan and will help determine the amount you qualify for.

A Blank Check for Your Checking Account. This is to verify that you have an active account in your name.
Having all of these documents in hand will help speed up the application process, so be sure to gather them prior to the meeting. Once you have these items and are meeting with the licensed vendor associate, the process is quick, often only taking half an hour. And, if you are approved, you could be walking away with up to $1,200 that very same day or the next business day.
Get Started Towards Your Payday Loan Today!
Our licensed vendors pride themselves on making the approval process as smooth and simple for you as possible. We understand that situations sometimes happen which require finances urgently. That's why Title & Payday Loans is here to connect you with licensed vendors who get can you the fast cash you need, without a long, drawn-out approval process or stringent credit check. Does a payday loan fit your current financial needs? Get started by filling out our online request form now and get the extra cash you need today!